What is SunHaus™?
This German designed high quality outdoor furniture is made from sustainable hardwood and recyclable wicker. It features cushioned seating for two and can be partially or fully reclined to a luxurious lounger position. Two pull-out foot rests and two height adjustable neck pillows add to the comfort. The hand woven wicker canopy allows protection from sun and wind as desired.  Two integrated cocktail tables offer a convenient spot for your drinks. With two throw pillows included this premium piece of furniture has to be experienced to be believed.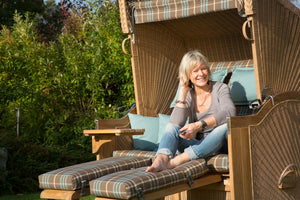 Create your outdoor happy place
Let the SunHaus™ enhance your
   backyard
      patio
          poolside
               beach  
                    dock overlooking the water. 
Relax in these German engineered mini-cabanas. For sitting, reading, chatting or dozing. 
Explore our SunHaus™ Models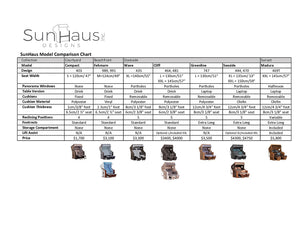 Are you looking for the ultimate outdoor furniture? This video demonstrates the neat features of the SunHaus
See how our accessories can enhance your SunHaus experience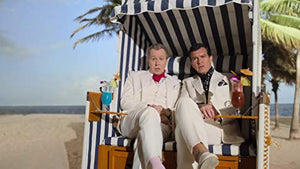 SunHaus in POP Culture
Did you know that the German Strandkorb (aka SunHaus) made
it to Hollywood? It is prominently featured in the 2019 movie "The Laundromat"
with Antonio Banderas and Merryl Streep.
The movie is streaming on Netflix where you will see Garry
Oldman and Antonio Banderas sitting in a Strandkorb (aka SunHaus) on a beach
reminiscing…..
The Ultimate Outdoor Furniture Alternative
Are you looking for something different than a Muskoka Chair? Searching for the ultimate Love Seat? SunHaus is a German designed Muskoka chair alternative - a beach chair like no other. The cozy lounger is a luxurious love seat upgrade. Let our unique SunHaus turn your favourite outdoor space into a place of serenity. We are your source for the original Strandkorb in Canada.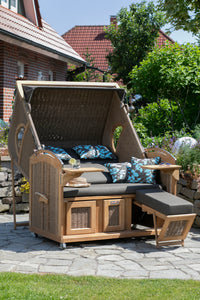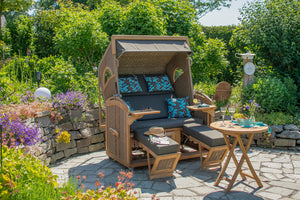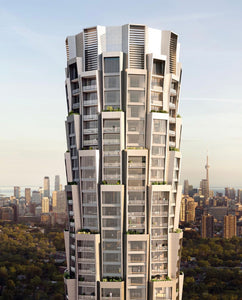 Strandkorb influences Award-winning Architect
One Delisle will be a new architectural landmark in Toronto – the first residential building in Canada designed by visionary architect Jeanne Gang, Founder and Partner of Studio Gang. She was the only architect named as one of TIME magazine's 100 most influential people in 2019. Jeanne thoughtfully designed the One Delisle building by drawing inspiration from the German Strandkorb. The building's outdoor spaces are edged by side panels, which provide privacy and wind protection. Like the Strandkorb's awning, some outdoor spaces are protected by the overhang of the structure above. The angles of the building ensure that balconies are sheltered from rain and snow, and together with the side panels, allow the outdoor spaces to be used more comfortably in colder seasons.

We recently delivered a SunHaus to One Delisle to be used in some of their sales and marketing events. How fitting!